A few months ago, Anna Guenther, Chief Bubble-Blower and Co-Founder at PledgeMe slid into my DMs.
She wondered if I might be willing to 'come out of retirement' to help out on a very special crowdfunding campaign.
It had been over 5 years since my last one, and I was (am) definitely a bit rusty. But when I heard what that campaign was – and who I'd be working with – I was all in.
The result of this collaboration – with the Nisa Manufactory – was a crowdfunding campaign that doubled their funding goal of $80,000 to raise a total of $165,093 in 27 days.
Since then, people have been knocking on my door. Great people with excellent ideas that absolutely deserve to exist in this world.
And truly – I want to help you all. But my life has moved on. I don't have the same space to take every great idea on.
So I'm writing this to help you unravel how Nisa did it, and how you can take those lessons to get your own great ideas off the ground.
Who are Nisa?
Nisa was founded in 2017 by Elisha Watson. They are an ethical clothing manufacturer based in Wellington, New Zealand. Nisa's mission is to employ people from migrant and refugee backgrounds.
Elisha previously ran two successful PledgeMe campaigns for Nisa in 2017 and 2019. And Nisa had been making great clothing that their customers love ever since.
That's important, because Nisa started with an incredible crowd. While I firmly believe we all have crowds, Nisa's crowd is truly first-class. And I can't write any kind of analysis of this campaign without dedicating at least one paragraph to singing their praises. Nisa's customers are truly out-of-this-world amazing. The kind of crowd I like to call "Forever Fans"
In March 2023, Nisa was put up for sale. And in June, they announced they were closing.
But in the final 5 weeks of business, it became really clear that Nisa's customers really valued the products that Nisa's staff made in their Wellington workshop.
During our closedown period, we sold 5x our normal order volume, and sent 11,113 garments out the door. Our inbox filled up with messages from people who couldn't imagine buying any other underwear.
This response inspired Production Manager Pam Lowe to make a last-ditch effort to save Nisa; the jobs Nisa provides; and to keep making the clothing their customers loved into the future.
Pam was joined by co-owners Hannah, Li Ling, Yuri, and Queen. Over a few chilly winter weeks in July, we plotted Nisa's PledgeMe campaign via video calls to raise the funds they needed to reimagine and save Nisa.
Preparation
I took the team through some version of my old workshop process. We figured out their budget, their key messages, the rewards, and their video.
The next week, we talked promotion – in particular stacking their communications in such a way that it would build momentum for the campaign.
The team wanted to launch as quickly as possible, but when it came to their 'ideal launch' day, I didn't quite feel they were ready.
I explained to them that a strong launch is absolutely essential for a successful campaign. I'd never been able to save a campaign that kinda flopped on launch – and believe me, I'd tried.
Luckily, the team agreed with me. I say luckily because I believe the most important reward was added in that week, as well as the most critical piece of information.
They used that time to warm up their crowd, and strengthen the campaign. It was time well-spent.
The Bird of Helping Hands
I insisted we send the campaign to PledgeMe for a round of feedback before we went live. I'm so glad we did.
Nisa's star reward was undoubtedly The Bird Of Helping Hands briefs. This reward was only available through the campaign and was strictly limited to 500 pairs. They sold 408 of them.
That was one of Anna from PledgeMe's suggestions. I'd missed this trick because I am admittedly biased against merchandise.
But The Bird of Helping Hands briefs weren't merchandise – they're swag. And I am pro-swag.
The difference between them is that merchandise costs a lot of money outside of the project budget to produce and ship.
It's boring, and usually unrelated to the actual goals of the project. It increases your funding goal because you have to take into account the extra costs of production.
For example, if you're fundraising to manufacture a gardening tool and offering a branded t-shirt.
But Nisa made underwear. The point of the campaign was to sell some underwear to provide employment. Making underwear was entirely within the bounds of this project.
Further, adding the print and limiting numbers gave some "brag points" to making a pledge. You can't get these underwear anywhere else. You only get them if you contributed to the campaign.
Pam enrolled the help of Nina van der Voorn, the Royal Master Artist at the Kingdom of Klah, and The Bird of Helping Hands print was born.
Refining the message
In the week leading up to the campaign's launch, Pam secured two media pieces – at Stuff and Radio New Zealand.
They say don't read the comments, but Pam and Hannah did.
There's a difference between the old Nisa and the new Nisa. Part of the plan for the new Nisa included being a contract manufacturer for other fashion brands as well.
In the final week, the team really articulated that difference. It made clear that they were focused on improving the business, and expanding their scope to help other businesses as well.
That part is already going well with "cult" technicolour activewear brand Zeenya Clothing now also crowdfunding on PledgeMe to get their latest range made in New Zealand with the new Nisa Manufactory.
Launch day
The Nisa campaign launched just after 8:30am on August 14, 2023. For the first few hours, the plan was to quietly tell friends and family that the campaign is open and they can make their pledge.
The purpose behind this is simple: nobody likes to be the first to arrive at a party. The first few pledges are hardest to get. So you go to the people who know you, and who trust and love you most.
This group took Nisa's campaign to 5% funded before 11:00am, when the next part of the crowd got their invitation.
We segmented Nisa's email list into three parts:
Customers who had purchased recently, and who were good at opening their emails.
Customers who had purchased, and were mostly active.
Everybody else.
We did this to build the momentum that ultimately took them over the top. Because you know what people hate more than being the first to the party?
Missing the party altogether.
How the party started
There are four key markers of a successful crowdfunding campaign. I go into them in this PledgeMe blog, but the upshot is the faster you hit them, the higher you're going to fund.
Nisa hit 10% before they launched publicly (and sent their emails to the second segment) at 12pm.
By 2pm, they were at 30%.
They smashed 60% by 6pm.
The third email segment went out at about 7:45am the next day. They crossed 100%, raising $80,000 before hitting the 24 hour mark at 8:30am, with 498 pledges.
Pam invited her crowd to the Nisa Workshop in Wellington for Lemon and Poppyseed muffins via a supporter update.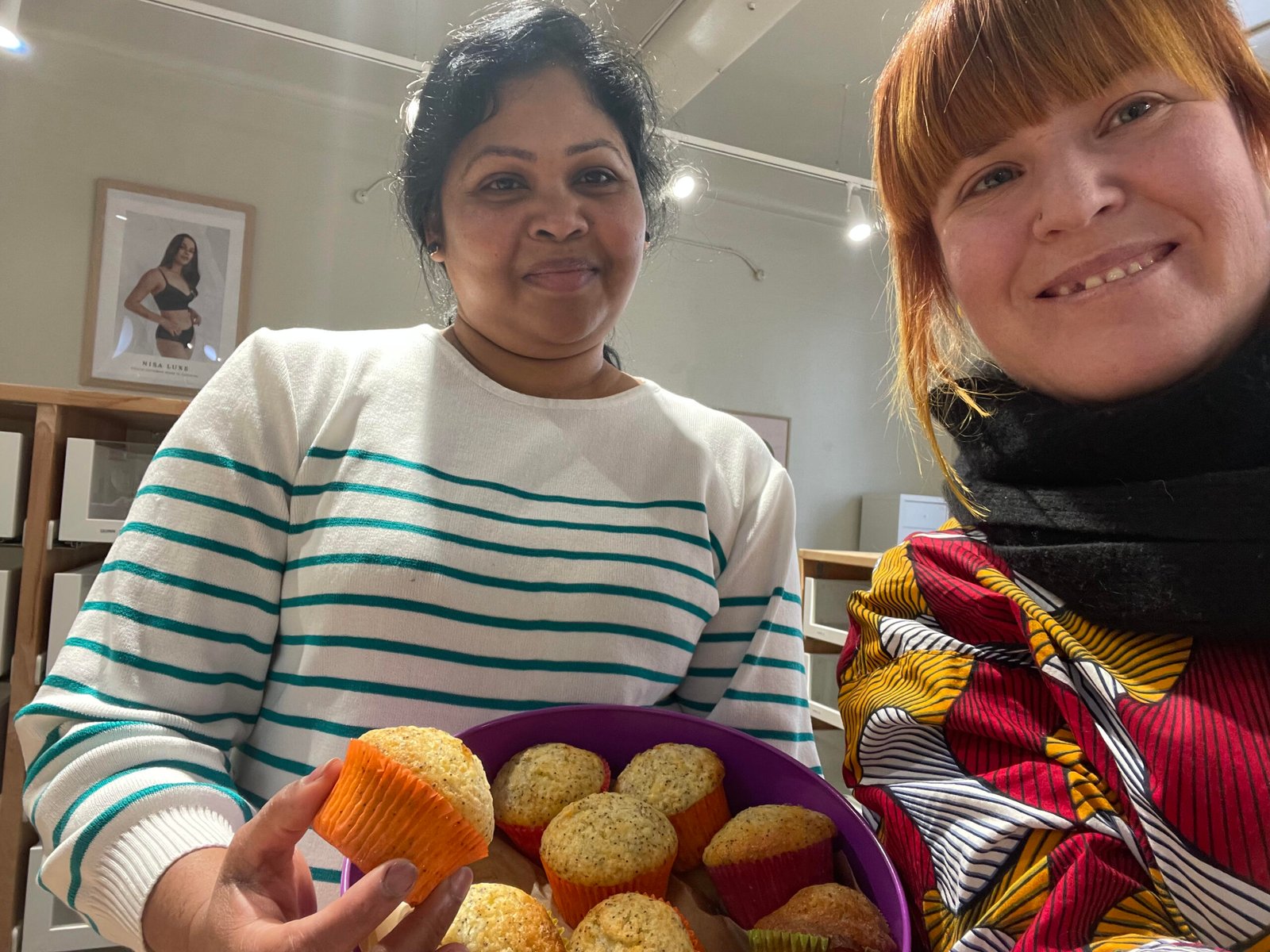 We released a stretch goal – at $100,000, Nisa would purchase a 'casing machine', which would allow them to produce bras and swimwear with an underwire.
By the end of the second day, the campaign was sitting at $101,401 pledged.
The slow period applies to everyone
The first 5 days and the last 5 days are when you get the most pledges. In between that time it can get a bit slow and painful.
This is why keeping your campaign around 30 days is important – enough time to build momentum, but not so much that this part of the campaign almost kills you with stress.
On Nisa's slowest day, 5 supporters pledged $240. That blip on August 29 is when they sent their mid-campaign email to their entire email database.
During this time, the team were still promoting their campaign and working hard. But this slow period is something even big campaigns experience. If you're going through it, know that you just need to keep going.
In the first 5 days, Nisa raised about $113,000.
Over the next 17 days, they added about $24,000 worth of pledges – 25% of that coming on August 29 alone.
Then, in their final five days, they added another $26,000. Again, they did this by sending emails – one each day for the final 4 days to the entire mailing list.
The power of email
I believe the 2023 New Zealand election campaign got in the way of more media coverage. The team definitely tried, but ultimately no-one seemed interested in covering the PledgeMe campaign.
Oh well, that happens for a lot of reasons. Nisa still had their secret weapon of a mailing list where they could communicate directly with the people who loved them.
No algorithm, paywall, or editor stands in the way of communicating with your crowd through email.
I always feel like a dinosaur when I say it, but email is really, really powerful when it comes to promoting a crowdfunding campaign. If you're thinking of running a crowdfunding campaign in the future, building your mailing list should be a top priority.
When it comes to sending your emails, know that segmenting your list by level of engagement is one way of igniting the momentum you need for a successful crowdfunding campaign.
Listening to feedback and 50% off
On the first day of the campaign, we received some feedback requesting bra rewards.
So after reaching their funding goal, the team added a limited reward. $40 for 50% off one of their best-selling bras. All 40 of them were snapped up in mere hours.
We realised not everyone had the funds to buy ethical, New Zealand-made underwear right now. But they still deserve them; and it's easier to find some money now, and some money later.
I think that explains the popularity of the 50% off vouchers. The $15 "50% off briefs" reward was Nisa's third-most popular.
For Nisa, taking a little-under half the money now, and half later ensures cashflow into the future. The pledger receives a small discount and something nice when they can spring for it. A win-win.
A warning, however: make sure your back-end can handle your promises. Nisa have found since the campaign closed that Shopify couldn't produce individualised codes, meaning more leg-work to double-check pledgers were getting their rewards.
Personalisation and curiousity
It wasn't intentional, but while reflecting on this campaign I realised Nisa's rewards tapped into two things people love: a good mystery, and making it All About Them.
We were pretty astounded when the first 5 "Bespoke Briefs" rewards flew out the door on Day 1. For $750, you could have a 1-on-1 session with Pam and get a set of 14 briefs (a 2-week supply) made especially for your body. Plus, you could come back to Nisa and have more of your personalised briefs made in the future.
We raced to replace the reward with another 5 – and those were gone by Day 2! It turns out plenty of people struggle to find clothing that fits they way they want it to. Offering the chance to get personalised briefs for life was too good for those lucky 10 pledgers.
The other thing we accidentally tapped into was a sense of curiousity. The "Surprise Me Packs" were initially envisioned as a way to fulfil rewards with existing stock. But because each supporter picks their size and style, and then gets a surprise about the colour, we'd also triggered people's curiousity. It was their top-selling reward.
Yes, buying one of these packs makes a pair of Nisa briefs a little cheaper. But my partner and I were delighted to tear into his Surprise Me Pack and find out what colours he'd been sent (he is 100% happy).
Marking the occasion
As time went on, we were pretty sure we were going to hit 1,000 pledges. We started thinking about what we could do to mark the occasion.
Sending everyone stickers or postcards was floated as an idea. The extra expense (a stamp costs $2 – a huge chunk of a $5 pledge) – is what nixed it. But then I remembered a reward that didn't make the final cut, where one of Nisa's staff would cook and deliver a traditional meal from their home for 4.
We decided it was too much work to expect of someone. But in a staff of so many cultures, filled with so many women, I figured there had to be a collection of favourite foods we could still do something with.
And so the Nisa Recipe Book was born. Kiwi women have been using their recipes to fundraise for more than a century. Pam got former and current staff members to contribute their favourite starter, mains, and dessert recipes.
I formatted them together to fit Nisa's brand, and we sent out a link to the book through pledger-only campaign updates while the campaign was still going. I don't know if anyone specifically pledged for the cookbook, but we did feel it was important to provide recognition to such a huge milestone.
This digital reward did require time – from Pam organising it, the women sending in their recipes, and me pulling it together. But it didn't cost budget.
It was sent digitally, and every pledge could access it.
Making choices
Once they knew they were funded and the new Nisa was officially going to be saved, the team wasted no time.
They got on with organising their 2023 swimwear collection – with the help of their crowd.
Heading into the final week, Nisa asked all their fans (not just the ones who had pledged) what colour swimwear they would like to see this year. They did this through email, a campaign update, and social media.
The results of that poll were binding, and the next day, they announced the results. Now pledgers knew what colour the swimwear would be in – and how much the PledgeMe discount was worth – sales of that reward picked up.
The flip side of this from a business point of view of course, is Nisa isn't making guesses about popularity. They are making the swimwear their customers want to wear.
FOMO and the final week
For most campaigns, the final week is when you will hit the 100% mark. If you've done your work, then you'll be at 60% or more heading into the last 5 days. Hold on tight, things are going to pick up!
Nisa was already an exception, and there wasn't any particular target to aim for. The casing machine that funded on the second day was the only official stretch goal.
Quite simply, more pledges was more work for the team and more bargains for their crowd. It was already a good deal.
But we didn't want anyone who wanted to get onboard to miss out, so we spent the last few days promoting the price-savings and the fact time was limited to grab them.
As well as the swimwear vote, and the bargains already there to be had, the team added a couple more bra rewards – "Surprise Me Packs" in their most popular styles.
They climbed and reached $160,000 – 200% of their funding goal – a few hours before closing.
Why did we close on Sunday?
The campaign ran for 27 days, closing at 8pm on September 10 2023.
Honestly, closing on September 11 didn't feel right. "Pledge before September 11" sounded terrible.
But there was also a practical reason for making the campaign shorter instead of longer.
It takes 10 business days to receive your funds from PledgeMe. We realised that closing on Monday would mean adding 2 extra days of the weekend.
Closing on Sunday meant the funds could be expected that tiny bit sooner. A small win for a business that needed the cash to keep going.
Some key takeaways
Nisa listened to feedback the whole way. From me telling them to wait a week, to Anna's campaign briefs, to the random guy in the Stuff comments, and the pledgers who asked for bras.
One big thing to mention – a most important thing – is that we listened to you, discussed things openly, and followed your advice!!!
If someone is going to get a campaign manager, they need to be able to talk openly with their manager and heed their advice! Or if no manager, then be prepared to follow the process that you've described above.
On everything from how to set it up, to the types of reward mix, to the time frames and the ups and downs of when money may come in, extra things to add, etc, all along the way til the end.
They even asked for feedback and used it as a promotional tool when they selected their swimwear colours.
Before launching, their crowd was aware a crowdfunding campaign was coming – warmed up a bit so they'd be waiting for the email to arrive the next week.
And when the campaign arrived in their inbox, there was a reward for everyone. A $5 pledge was valued, and meaningfully rewarded. People on lower incomes could access ethical underwear. You could learn to make your own clothing, or get Pam to make 14 pairs of briefs especially designed for your body.
Nisa were clever with their success. It's easy to make a whole lot of promises in the moment and crash your budget by adding expensive extras.
But instead they kept encouraging people to make work for their employees, and acknowledged their success with generosity that didn't crash the budget.
Their one stretch goal opened up a big chunk of the swimwear and bra market they couldn't cater to in the past.
They sent 11 campaign updates through PledgeMe before closing, and three since. That's around one update every 3 days. Perfect.
And they didn't waste time. They have been keeping themselves busy creating partnerships and expanding their business in considered ways.
They've used their existing sales systems to fulfill rewards, making everything fit into their existing practices. And having just ordered my (partner's) Surprise Me Pack, it was an absolute breeze.
Pam, Hannah, Li Ling, Yuri, and Queen were an incredible team to work with – receptive and prepared to work. Nisa's crowd just blew me away with their response.
Some extra promotion through media would have been nice, but the main thing is Nisa has survived. It will continue on into the future to keep making the clothing their crowd loves so much.
It has been inspiring, cathartic, and an absolute joy to have played a small role in that success.
About Kat
In 2014, Kat quit her office job to try her hand at helping people crowdfund. She'd been a prolific pledger for a little while and was frustrated at seeing great ideas go unfunded.
Between 2014 and 2018, Kat worked on over 50 crowdfunding campaigns, before retiring to go learn about horticulture and native plants.
These days, Kat has a job she loves as a gardener at a rest home. She also maintains a weekly gardening and lifestyle blog, grows 5 varieties of garlic, and sells a cat-treat product – Kat's Nip – grown in her garden.
To date, Kat has helped creators raise over $2,000,000 through crowdfunding. Campaigns that work with her have an 87% success rate.
You can follow Kat's Crowdfunding page on Facebook, LinkedIn, or Instagram to learn more.
Say thanks
Did this post help you? Would you like to drop a kōha Kat's way to say thanks? You don't have to, but if you'd like, Kat has a BuyMeACoffee page.
You can drop a donation there that will ultimately become a native tree growing on Kat's farm near Kerikeri.